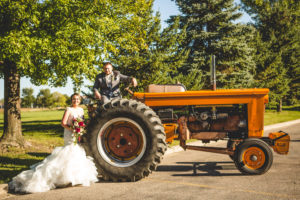 A wedding with a Moline makes a beautiful day . . .
Brittany Groskreutz and Richard Michels II were married September 22, 2018. 
Parents of the couple Kimberly and Jay Groskreutz along with Cheryl and Kevin Michels Sr. celebrated the beautiful day. Brittany grew up in an avid Moline family where her great-grandfather Arthur, grandfather Eugene and father Jay all farmed with Molines. Richard proudly owns Molines, he uses his GVI for tractor pulling and his G1000 for farming.