Jeff Laleman was at a show in Freeport, Illinois a couple years ago when he met Rich Carter and his wife Ruth from Milledgeville, Illinois.
He shares this story with us:
Around 1947 my Dad and Mom left the M-M experimental farm and Dad took a job as a farm hand for Rich Carter's father Darwin "Doc" Carter. This was for only a short time, then Mom and Dad returned to farm together with my Uncle Frank.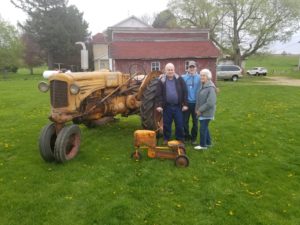 This ZT (in the picture) was purchased by "Doc" in 1948 at Schriener and Carbaugh Implement in Lanark, Il. That day "Doc" received the pedal tractor shown in the picture for Rich. In the picture is Rich's grandson Jacob and Ruth.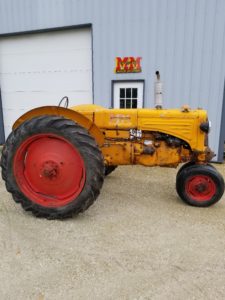 MMs Connect Families: The Z recently was acquired by Jeff and found a new home with the Laleman Family.  Jeff is in the process of getting it back up and running.