Meet MMCI Recipients of our Preservation Grant
Tayler Jones, 18, of Ottumwa, IA stands beside her restored 1962 GVI at her home west of Ottumwa.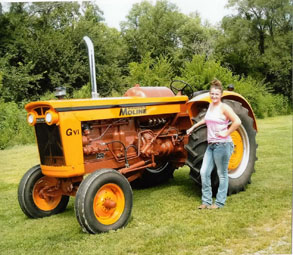 Tayler started her adventure with her tractor in October of 2014 after her grandfather bought it from a good family friend, Mike Verhulst. As an MMCI member, Mike sponsored Tayler's application to be considered for the club's Preservation Grant. She received the grant!
Tayler did all of her mechanical work, sandblasting, and painting. Many hours and months were put into the complete restoration — from the radiator cap to the end of the drawbar. Alongside her was her father, Troy Jones, and grandfather Max Jones.
"My dad restored a 1957 Minneapolis Moline 5 Star for an FFA project in 1998 and it received a purple ribbon at the Iowa State Fair," Tayler proudly says. "He attended many tractor pulls with it and it has been in the shed for a number of years. He is doing some update work on it now, and plans to do more tractor pulling with it." Tayler is a member and President of the Agri-Power FFA Chapter in Eddyville, IA. At the 2015 Iowa State Fair, Tayler exhibited her MM tractor with pride, as it was the only Moline there. Out of the approximately 80 tractors in her division of 1959 and newer restored tractors, Tayler received Reserve Champion.
"If you'd like to see my tractor on display in person, it will be at the 2016 Farm Progress Show in Boone, IA on August 30 – September 1," Tayler states. "My next project for the 2017 Iowa State Fair will be a 1968 Minneapolis Moline G1000-Vista. I expect to have great success with the restoration of this tractor and many more to come!" MMCI is proud of her work and interest in the Minneapolis-Molines!
For more information on guidelines click here
Former Recipients
Jim Riswold
Jim Riswold restored a ZTU-39 with the help of MMCI Preservation Grant money. Pictured with Jim are his sons Ethan, Alec (on the left), Aron (on the right, his wife, Danah, and Justin.
Daniel Owens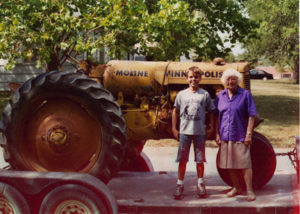 Daniel Owens and his grandmother stand beside Daniel's first MM tractor, a rare 1951 ZAU LP, which he is restoring with help from the collector's club. John Cruthis, an MMCI member from Arkansas donated the tractor to Daniel and also helped make it possible for Daniel to bring the tractor to Washington, Kansas where Daniel lives. Another MMCI member, Clint Stamm, is sponsoring Daniel, who will be taking his restored tractor to shows and sharing the heritage of Minneapolis Moline.