Minneapolis-Moline Toy G1000 Vista
We are pleased to share this article from the February 2019 MM Corresponder, by permission of Editor Gaylen Mohr.
Minneapolis-Moline Toy G1000 Vista by Jay Groskreutz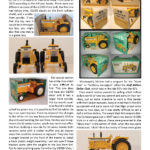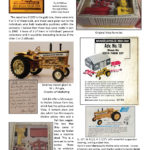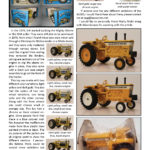 If you do not receive the Corresponder, you are missing out on a must-have magazine, "Dedicated to the Great Minneapolis-Moline Power Implement Company."  You can subscribe here.
---
(Other Articles – newest to oldest)
You've heard of family reunions, company reunions, class reunions, even tractor reunions. But how about a doll reunion?
Step back to 1999:  The Minneapolis-Moline Collectors Winter Convention, held in late February 1999 in Arkansas, was the site of the first-ever Buddy Lee reunion. The Buddy Lee doll was a promotional piece used by the Minneapolis-Moline Company. The first dolls were dressed in Lee overalls, and displayed in store windows. MM dealers were encouraged to sell the dolls when the display was discontinued. The dolls became so popular that they were sold for about $2.40 each. The first models were about 12 inches tall, made of plaster with eyes glancing coyly to the side. The doll's hair was molded, and the words 'Buddy Lee' were imprinted on the doll's upper back.
In 1949, Buddy Lee grew a few inches taller, and was made of plastic instead of plaster, making him easier to dress. But the Buddy Lee era ended in 1963 when the line was discontinued.
Buddy Lee was a versatile pitchman: he also appeared in promotional efforts by Coca-Cola, Phillips 66 and Mobil Oil. Reproduction models of those dolls sell for more than $200. An original Buddy Lee will sell for as much as $1,000.
Eight dolls were displayed at the that first reunion. Some wore hats, belts and uniforms handcrafted by Carol Sarchet, a collector from Colorado. The reunion, coordinated by Loren and Ruth Book, also featured historical background and photographs.
Do you have a story?
We will continue to post articles, stories–past, present or future–related to Minneapolis-Moline, MM events and things of interest to collectors. If you would like to submit something of interest please contact us.