Dale Laedtke loved his family, friends, his Weimaraner dog named "Jager," hunting, snowmobiling and Minneapolis-Moline tractors.
Sadly, Dale passed away at the age of 27 in an avalanche while snowmobiling in Wyoming, March 4, 2019. To honor Dale's love of Minneapolis-Moline his parents, Larry and Karen Laedtke of New London, WI, made a memorial gift to the MMCI Scholarship Fund, making it possible for scholarships to be awarded in memory of their son, in addition to the other MMCI scholarships.
Minneapolis-Moline Collectors, Inc. (MMCI) are pleased to announce that a scholarship in Dale's name will be awarded in 2020 to a MMCI member, child or grandchild of a member: This $750 Laedtke memorial scholarship is specifically to be given to someone attending a trade school. (Dale completed a degree in diesel mechanics and was a journeyman millwright.) 
Love of Minneapolis-Moline and the Adventure of Finding MMs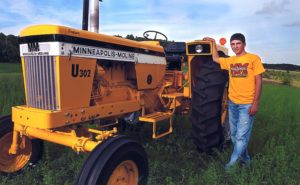 According to his parents, Dale's love for MM started at the Manitowoc winter show in 2005. That started the adventure with his father Larry Laedtke.
"Shortly after the show, we traded our 861 Ford for a U302. Finding parts, introduced us to Jerome and Denise Olson from Langford, South Dakota. While the guys enjoyed seeing Jerome's collection, it wasn't long until we purchased Jerome's G1000 Vista.
While attending a show in Clarinda, IA, viewing Paul Sunderman's collection, Larry felt like he found his father's tractor due to a part that he remembers welding on to a M670. We do not have serial numbers to confirm, but what are the chances of someone welding the same part? So, at Paul's auction we just had to have that M670 in our shed.
Of course, just like anyone reading this, one can never have enough MMs in their sheds, so a JetStar 3 found not far from our home was purchased. Dale was looking forward to restoring it someday. Dale had great pride driving these restored tractors and attending shows with us.
Due to his love for MMs and the future for farming, we know Dale would approve this memorial gift to the MMCI Scholarship Fund."  Return to the Scholarship Page.